CIHRM CHARTERED INSTITUTE OF HUMAN RESOURCE MANAGEMENT NIGERIA
CIHRM CHARTERED INSTITUTE OF HUMAN RESOURCE MANAGEMENT
We Provide You With World Class Training & Certification
Welcome to the Chartered Institute of Human Resource Management (CIHRM), under the Chartered-Ship House Bill No. 319, 2019 in partnership with the HRM Professionals and Certification Institute. A brand name synonymous with building the HR brand and culture. The Chartered Institute of Human Resource Management (CIHRM) is a registered professional in the Nigeria building the HR and Human Capital Development culture. The aim of CIHRM is to increase its membership base worldwide through global partnerships and affiliations with Universities, Colleges and other Professional Institutes in different countries.
There is more to HR than meets the eye. People have construed HR as an administrative function that hires and fires employees only, but it isn't. The industry has evolved from the era of being merely one of personnel management to one of human capital management.
The Institute is been promoted by seasoned HR professionals, University lecturers, HR specialists, High ranking HR Officials of various esteemed organizations. It is also important to redefine the HR function as a strategic partnership with other key players within a business, and one that helps to maximize the return on investment from the organization's human capital and minimize financial risk.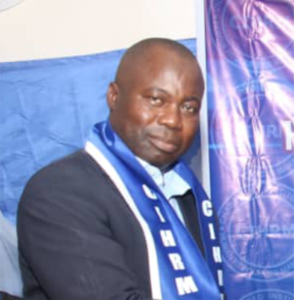 Dr. Olufemi Samuel Omoyele, FCIHRM
On behalf of the Governing Council, staff and board of trustees of The Chartered Institute of Human Resource Management (CIHRM) I would like to take this opportunity to welcome you onto the noble Institute. You have reached a milestone in your life, and we are proud to count you among the growing number of Certified HR Professionals.
The Chartered Institute of Human Resource Management (CIHRM) is a Nigerian fast growing HR Association. As a non-profit organization, the Institute is dedicated to enhancing HR managerial skills and professional development.
Since its inception, the Institute has helped thousands of HR professionals to develop a broadly based education in HR skills with a rich and diversified series of programs from individual courses to professional designation.
The Institute's programs are available through educational and training institutions in Nigeria. The programs are also available in a variety of forms and structures:
UPCOMING INDUCTION INTO THE CATEGORY OF ASSOCIATE, FULL MEMBERSHIP, FELLOWSHIP AND DOCTORAL FELLOWSHIP
Applicants will be assessed on their education, training, knowledge, skill, and experience (K.S.E.). Due consideration will be given to those who are qualified only by practical experience. There are many people who, through no fault of their own, have not had the opportunity to gain academic qualifications during their careers. These people may also apply for membership based on their own individual merits, practical experience, and position. This direct membership certification is based on work experience only for working professionals in the field of HR Directors, Group Human Resources Management Directors Human Resources Officers/ Managers Admin. Managers/ HOD Admins/ Directors of Administration Human Resources Practitioners General Managers Human Resources Consultants Human Resources Facilitators Learning and development Personnels Industrial & Employee Relations personnels Resource and Talent personnels Performance management personnels
8WEEKENDS PROFESSIONAL TRAINING IN HUMAN RESOURCE MANAGEMENT
Established under the Chartered-ship House Bill No 319, 2019) Is organizing an 8weeks Online course Leading to 3 Professional certifications. BECOME A CERTIFIED/CHARTERED HUMAN RESOURCES PRACTITIONER (3-IN-1 CERTIFICATION PROGRAMME) Certifications will be issued by the Chartered Institute of Human Resources Management Actual Price:- N120,000 Discounted Price:- N90,000 Benefits and Certifications i. Associate membership certificate of CIHRM. ii. Post-Graduate Diploma in Human Resources Management iii. You will become a Certified Personnel Management (CHPM) iv. The initials "ACIHRM" & "CHRP" will be added to your name.
ARE YOU INTERESTED IN OUR TRAINING OR CERTIFICATION?
Get in touch with us with your right information